There's a new sheriff in Ferguson after the problems escalated last night into more assault and arrests. This afternoon, Missouri Gov. Jay Nixon replaced the St. Louis County police with state highway patrol led by Capt. Ron Johnson. Tonight, instead of gassing the demonstrators, the police march with the protesters. When a protester needed assistance, a patrolman got out of his car with his hands up so that he could provide assistance.
President Obama said today that he has called on the Department of Justice and the FBI to investigate what led up to the shooting of the unarmed teen. He also criticized police "excessive force":
"There's also no excuse for police to use excessive force against peaceful protests or to throw protesters in jail for lawfully exercising their First Amendment rights. And here in the United States of America police should not be bullying or arresting journalists who are just trying to do their jobs and report to the American people what they see on the ground. Put simply, we all need to hold ourselves to a high standard, particularly those of us in positions of authority."
The openness on the streets tonight is a 180-degree turn from last night when police turned on citizens such as  St. Louis Alderman Antonio French. He was arrested last night in Ferguson because, as a police officer said, he "didn't listen." He had been videotaping events in the town and got in his car with the windows rolled up after police threw tear gas canisters. He was released this morning.  One of French's posts included the following photo with the statement: "It's important for people to understand that the man is this photo was throwing it BACK at police who shot it at him." Other media outlets using this photo failed to print information behind the picture.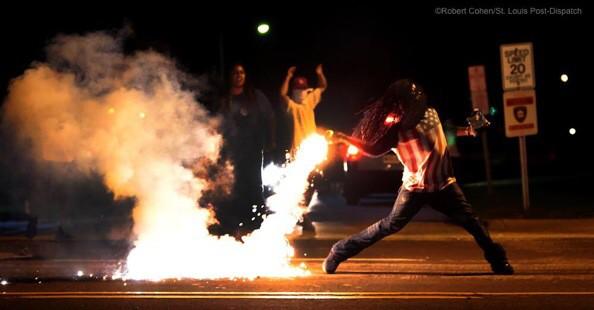 Police also attacked Al-Jazeera America TV crews with tear gas. Like many other civilians in the city, they were shot with rubber bullets. After the reporters fled, police took down the light kit and pointed their camera at the ground.
One response to the terrifying situation in Ferguson:
 "Horrifying. Like a car wreck I can't stop watching. Others have commented it looks like Kent State and the 60s civil rights marches. Exactly. Rep John Lewis was on MSNBC this morning to discuss. Most enraging for me is the attack on the press trying to cover the police behavior. How much worse would it be if the press is excluded? Police ordered them to stop filming. Arrested reporters from Huff Post and the Washington Post in McDonalds recharging their batteries and using their laptops. Attacked Al Jazeera reporters in their car on a quiet side street. Film footage of the police handling Al Jazeera equipment after reporters fled; pointing cameras at the ground and shutting off lights etc. Infuriating.

"Goldie Taylor was interviewed on MSNBC. She is a former Marine and went to high school in Ferguson. She said this treatment of AA citizens has been going on for generations there. Another AA attorney interviewed for a job in the DA's office. They asked her if she'd be ok working in an office where the N word was regularly used. A picture of this place is starting to emerge to the rest of the nation. Apartheid in America."
Also horrifying is the conservative response about Ferguson.  Asked yesterday by former Rep. J.D. Hayworth (R-AZ) on Newmax TV if the Congressional Black Caucus should look into the events in the St. Louis suburb after a police officer killed a black teenager, Rep. Steve King (R-IA) said that action wasn't necessary:
"This idea of no racial profiling. I've seen the video. It looks to me like you don't need to bother with that particular factor because they all appear to be of a single origin, I should say, a continental origin might be the way to phrase that."
In other words, there's no problem because they're all black. King has been infamous for several years because of his prejudice against people of color, most recently at an Iowa fundraiser. He was co-architect with Rep. Michele Bachmann (R-MN) for the House's recent border bill.
Todd Starnes (Fox network) is incensed because President Obama sent condolences to the family of the murdered teenager but not to the police officer who killed him.
Joe Scarborough, host of MSNBC's Morning Joe Show, accused the assaulted and arrested reporters of merely trying to get on television. Fortunately, Scarborough, possibly on the short list for replacing David Gregory on Meet the Press, didn't get that position. NBC announced today that Chuck Todd would be taking over Gregory's position on the talk show. A response to Scarborough from one of the maligned reporters, Wesley Lowery, is here.
The Posse Comitatus Act of 1878 kept military forces from being deployed in civilian neighborhoods for law enforcement, but the 2012 National Defense Authorization Act made all of the United States a part of the "War on Terror." Posse Comitatus has been eliminated while anyone deemed a potential terrorist can be assigned to indefinite detention in a military facility.
The conservatives who believe that the police are in the right should remember the show-down at Cliven Bundy's ranch. White people who pointed guns at federal officials were heroes, patriots, freedom lovers, law-abiding citizens, defenders of the constitution, rebels against tyrannical government forces, etc. Almost none of the protesters in Ferguson is armed, but they are herded like animals by SWAT teams in armor who have sniper rifles and tanks. That's racism.
Ferguson isn't unique in blatant racism. Two days after Michael Brown was killed in Ferguson, a security guard pepper-sprayed Raymond Wilford, a black man walking by a pro-Palestinian protest in Seattle. Wilford was walking by the demonstration when a shirtless white man, who had been screaming terms such as "towelhead" and "sand n*gger" at the demonstrators, started to attack the black man. The guard walked past the aggressive white man to spray Wilford while protesters kept saying, "You Maced the wrong guy!" Wilford was detained after a Seattle police officer arrived, and the white man walked away.
Rep. Hank Johnson (D-GA) announced that he plans legislation to slow down the militarization of local police. The Stop Militarizing Law Enforcement Act would rein in a Defense Department program that provides Mine-Resistant Ambush Protected vehicles, M16 assault rifles, and other surplus military equipment to local law enforcement, free of charge. Other federal legislators, including Sens. Claire McCaskill (D-MO) and Rand Paul (R-KY), agree with the need to demilitarize the police.
Thousands of people across the United States are protesting police actions in Ferguson. We need to support the legislators who will try to return democracy to the nation.